PLEASE NOTE:
Fax has been phased-out at BUF Technology!
For facsimile-type messages, please email photo to:
buftechnologyinfo@buftek.com
New - prices on Sport-HD products!
HD Replay Recorder Channels Slashed by $6,000!
See PRICE LIST

BUFTEK Controllers - Even More Robust!
The favorite transport functions controllers for video and file-based QC, live record and playback, and slow motion control have been upgraded to be even more robust than before. BUFTEK controllers are highly acclaimed for their excellent robustness and reliability. However, BUF Technology believes that there is always room for improvement, and through careful analysis of the controllers' extensive real-world experience, two areas have been identified that would benefit by design changes: the keyboard and the optical encoder.
First, the excellent low profile Cherry keyswitches are being replaced by the even stronger and quite legendary Cherry MX Series keyswitch, which has a virtually indestructible keyshaft. It turns out that on a few occasions during years of use, a few keyswitches have broken in the line of duty. This will happen no longer with the MX Series. Secondly, as part of the new keyboard design, the third-party optical encoder (knob guts) is being superceded by a proprietary BUFTEK design that uses much larger optical features and greater electrical and optical safety margins to improve reliability. The new knob design also implements heavy-duty ball-bearings that are stronger than the bushings formerly used, and provide an improved knob feel.
Keyswitches
Although BUFTEK controllers have always used high-quality Cherry keyswitches, the new redesign implements the classic MX series of Cherry keyswitches. These switches are the favorite choice for high-end keyboards used by serious gamers and have a rated lifetime of fifity-million actuations - that's five times better than the original Cherry low profile keyswitches used in the previous design. Those BUFTEK users that have managed occasionally to break a switch's keyshaft will be pleased to hear that the MX series uses a much stronger keyshaft that is virtually unbreakable. The MX has a similar feel, but has a bit longer stroke and requires a slightly lower actuation force.
Tactile Keyswitch Option
To keep operator fatigue to a minimum during those long sessions, BUFTEK controllers have always used smooth actuating keyswitches. But for those operators who prefer a tactile "click" to their keyswitches, the -T option is available that substitutes MX Click or Soft Tactile keyswitch models. There is a nominal cost for this option that is non-refundable.
Optical Encoder (Knob)
The feel and strength of the BUFTEK controllers' knob has been improved, while keeping the basic performance characteristics that operators prefer. A new heavy-duty ball-bearing system adds "spin-and-grab" operation and the new proprietary optical system means no more occasional third-party component failures.
These improvements are available as standard on all new BUFTEK VTC-4000, VQC-3000, and Sport replay controller models. With our "Refurb" program, older controllers can be upgraded for an additional cost.
BUFsport

Companion Software for Sport Replay Systems (Price: $995)

Finally, the favorite affordable high performance slow motion instant replay system gets a bigger display! How big? Limited only by the size of the screen on the MicroSoft Windows PC connected to it. Not a built-in, compromise display locked into today's technology, instead BUFsport takes advantage of the latest advances in display technology and economy of scale offered by general purpose computers. So as the PC is upgraded, so is the instant replay system. BUFsport also benefits from the computer's power to manipulate, sort, process, store, etc., but if the computer has a problem and/or needs a reboot, Sport still operates standalone so there's no downtime!

Cue points listed two-dimensionally in a window, including clip, IN, OUT DUR, etc. Automatically updated whenever marked or trimmed.

Play lists (up to ten in Sport), each show in their own window

Copy, paste, or drag & drop cue points into and between play lists

As soon as a change is made, it's automatically inside Sport, ready to play

A double-click on any cue point or play list step instantly cues for playback

Type comments, including programmable single-keystroke keywords

Search comments or other fields to find similar plays or players quickly

Save cue points and play lists for recall when changing Sport-HD disks

Works with Sport-HD, SD Sport, and other Sport controller products.

To make BUFsport work on your system, just order it and send your unit in for a Refurb-SP upgrade. You also need a TBar if you don't already have one.
See the PRICE LIST for costs and always feel free to call or email.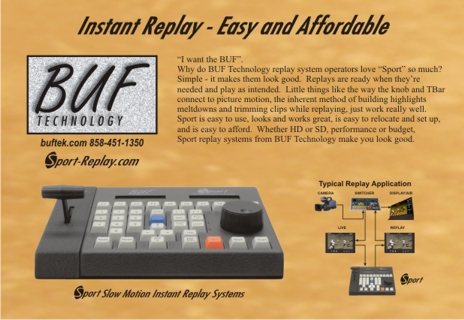 Affordable High Performance Slow Motion Instant Replay - Cost Effective Path to HD

Many sports producers continue to operate in standard definition, often using a 16:9 wide screen aspect ratio. When done well, most viewers don't even know they're actually watching SD. But because most HD capable equipment is not much more expensive than SD-only counterparts, purchasers tend to resist anything that cannot also operate in HD. However there are some components, like slow motion instant replay systems, that cost much more when capable of high definition.

BUF Technology (BUFTEK) produces replay systems that are popular for their low cost, high performance, and ease of use. However, the HD versions are more than twice the price of SD. This is due to the high cost of HD disk recording that is capable of useful slow motion. HD recording has become commonplace and inexpensive, but only for normal speed playback. "Interframe" or "Long GOP" compression methods like MPEG are used to reduce data rates, and therefore cost, but degrade the picture in a way that, even if slow motion playback is possible, is not suitable for slow motion applications. Some less expensive replay systems use these recording techniques regardless and sometimes employ interpolation that results in pictures that did not actually come from the camera!
Beware of interpolation! Features in the picture cannot be relied upon to appear where they actually occurred in real life, and can even disappear completely! Replay systems that use these techniques should never be used in applications where the truth is important, such as officiating replay. And "low cost" systems that employ MPEG tend to be fairly expensive anyway, generally having a higher price tag than BUF Technology systems.

BUFTEK knows a lot about officiating replay, having played an instrumental part in the design and production of the original "FORCE" officiating replay system used in professional football. In fact BUFTEK coined the name "FORCE". Even with their low cost, all BUFTEK Sport replay systems record and reproduce exactly the same images the camera produces; interpolation is not needed or used. An important aspect of this is the need to record and reproduce all 60 pictures per second that the camera provides (actually 59.94 per second, or 50 in Europe and many other regions). Systems that use interpolation often only record half the pictures from the camera, then further compress and distort using Long GOP recording! That's why they use interpolation, otherwise the slow motion playback would look too jerky.

New upgrades to Sport allow the purchase of affordable SD replay today with an upgrade path to HD tomorrow. The controller portion of Sport is a significant part of the cost, and is now capable of being used to control HD recorders purchased later. This offsets about 25% of the cost of a later HD upgrade, and that is at today's prices, likely to come down in the future as HD technology becomes less expensive. This makes it practical to migrate to disk based slow motion now, giving producers the high performance, low operating cost, and ease of use it offers. Using videotape for replay is cumbersome and puts a lot of costly head hours on VTRs that continue to be needed when tape is appropriate. And Sport is logical and easy to learn; it doesn't require operators to attend special classes to become proficient!

BUF Technology Sport replay provides an excellent return on investment, even if only the minimal expenditure of standard definition Sport is made initially. Effective slow motion instant replay adds value to any sports production, and Sport makes it simple and affordable.

New for VQC-3000's and VTC-4000's

Improved control of BlackMagicDesign Hyperdeck* recorders.
Newest firmware includes workaround to fix status reporting idiosyncrasies.

Free automatic TC "Typing" Keystroke Utility included (as always) with
BUFclips Video Server Clip Management Software
and ask about new optional clip-related features for the HyperDeck and
VDCP server control support for most video servers.

* Hyperdeck is a trademark and/or copyright of Blackmagic Design Pty. Ltd.


New in BUFMC
Great new features have been added, including a new easy way to create device icons using pictures from virtually any source (cell phone camera, etc.)

Click Here for Sport Replay Tips

NEW!
Firmware upgrade for existing Sport Replay Systems adds important new features!
| | |
| --- | --- |
| | Control multiple SD and/or HD Sports with one control panel. |
Great Deals on SD Replay!
HD budget not materializing just now?
Many viewers think they're watching HD when it's actually high quality anamorphic 16:9 standard definition.
SD is still appropriate for many large format screens, streaming, and smaller market broadcasts.

Don't want to spend any more on SD, but not loving your current instant replay?
Ask about our PRICE REDUCTION on the popular SD Sport replay system with SDI!
Now, disk based instant replay is more affordable than ever - join the massive group of BUF Sport lovers.

Still doing replay on tape?
Save those expensive VTR head hours for when you actually need to deliver a tape.
Sport is a great, yet affordable replay system, and doubles as a general purpose server for
virtually any short term recording task, further maximizing its excellent return on investment.

Speed up your replay while increasing image quality.
Build highlights effortlessly while replaying - ready to play and/or layoff as soon as the game's over.
Zero operational costs after purchase - very low power consumption and heat production, small and quiet.
Sport is very easy to learn - ideal for student or other high turnover operators - great teaching tool.
Increase revenue by offering your guarantee to play advertiser bumpers in and out of every replay (see TBar)!
Upgrade path when you're ready for HD - an SD investment that still has value when you go HD.
Popular "Sport" Replay System
Hard Disk Recorder right in the Panel

Comments from Sport owners:

"Sport really is just the best replay system out there at any price - and it's [inexpensive]!"

"Very happy with it - it works perfect!"

"Used it on our first game and loved it. Haven't gotten very deep into the playlist stuff yet, but will soon."

"Roll-ins work seamlessly. The operator looks like a Cheshire Cat when using it and wants 4 of them."

"Would like to order a couple more Sport-80's because we love them so much. Put them on Amex."

"Had an emergency basketball game this weekend, used Sport, and loved it."

"Just love Sport. Use it for roll-ins for live TV. Upgrading to SDI, charge the Amex."

"We use it for a clip store. It's very fast bringing up a clip. Just punch in the number and it's right there. All our crowd reaction stuff is done on it. Best six grand we ever spent."

Sport-HD Replay System
Multi Channel Hard Disk HD Replay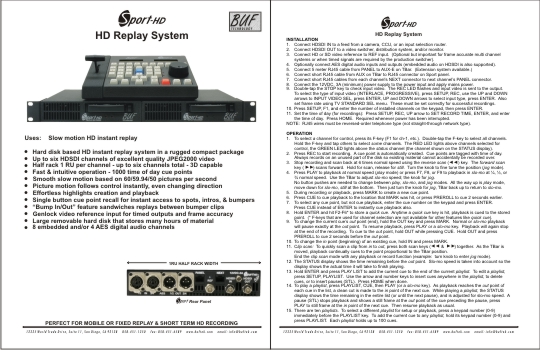 Simplicity:

Slow motion instant replay works best when done in a simple way. Lots of features look impressive during a demonstration, but tend to overwhelm operators, bogging down the important tasks. A relatively simple set of basic features are what the operator really needs and will actually use in practice. Having too many bells and whistles is like packing too much for a quick trip. In live production, especially instant replay, speed is of the essence.

BUF Technology's "Sport" replay systems implement a basic set of tools most useful to the job, and present more advanced features in an inherent way that keeps the complexity mostly hidden from the operator. The result is very fast and effective live replay, and effortless creation of highlights packages that are ready to play at any time. Sport is easy to learn, making it ideal for student operators, where operator turnover tends to be high. And Sport performs better than any other replay system on the market, and at an affordable price.

Editing is complicated and takes time, so is best done post production when time is available. However, for highlights creation purposes, basic editing is beneficial to the replay process as long as it doesn't take too much time and attention away from the primary task of live replay. Sport makes it practical for the live replay operator to create the highlights package by simplifying the way it is done. Two basic tasks are required to create an effective highlights package, marking clips (cue points), and placing them in the timeline of the highlights package. Sport implements the marking of clips in a highly effective way, and facilitates placing them into the highlights package inherently in chronological order.

Making the highlights is easy, Sport allows the most recently created clip to be placed at the end of the clips already in a particular playlist of clips with a simple keystroke sequence, namely hold ENTER and hit PLAYLIST. This results in a natural order of highlights elements with very little effort. When a clip is entered into the playlist, it doesn't need to be perfect. Sport makes it easy to tweak afterwards, while it is being played live for replay. So the operator needs only to decide whether the action being viewed is worthy of inclusion in the highlights package and add it to the playlist. The real time consumer (normally) is getting the clip just right.

Clips, or cue points, are snippets of action defined by timecode beginning "in" and ending "out" points. Although these points are referenced internally by timecode numbers, the operator makes these decisions based solely on the visual action and need not be concerned with timecode. A MARK key creates a new cue point, or clip, at the current playback or record position (the displayed video frame). Since action worthy of replay can't be known until after it has begun to occur, marks made during recording must be trimmed back after being marked. Normally this is done by cueing to the marked point, backing up, then re-marking the point. To save time and make initial marks more accurate and often perfect, BUF Technology proudly introduces Variable Mark Backtiming or VMBT. VMBT uses a simple technique to allow the operator to back-time the point being marked by a variable amount. When the MARK button is first hit, it captures the current timecode as usual, but if it is held down, the duration of time it is held is measured and subtracted from the initial timecode to create the back-timed point. Essentially, the timecode runs backwards while the button is held down. VMBT takes advantage of the human mind's ability to estimate how long ago something happened and to duplicate that period of time fairly accurately. This feature works very well with little practice, allowing operators to make perfect cue points on the first try most of the time. Even when imperfect, marks tend to be close, speeding up the time required for trimming.

Sport replay systems concentrate on the tools a replay operator really needs and uses. Highlights are quick and easy to create without slowing or distracting from the primary task of live replay. A simple operational methodology makes Sport's learning curve short, meaning operators spend time on the job, not in class. Sport is built tough, able to come through consistently and survive years of the hectic life of live production. All this and an affordable price makes Sport the best choice for the limited replay dollar.

Playlists - Fast and Easy Highlights

You may or may not already use the playlist feature of your Sport or Sport-HD replay system.
These simple steps can help you to streamline the way you use this powerful tool:
1. During recording, when you see action worthy of the highlights package:
Hit MARK, then hold ENTER and hit PLAYLIST - this makes a clip and puts it into the highlights playlist.
2. Once the action is over, hit CUE or PREROLL to cue for replay. Turn the knob (jog) to tweak where the clip should ideally begin.
3. Hold ENTER and hit MARK (see NOTES below) - this changes the start of the clip to your tweaked location (IN point), and inherently also fixes it in the playlist.
4. Play the replay (on air). If playback doesn't stop at the ideal time, hit STOP and jog to a better location, then hold OUT and hit MARK - this tweaks the OUT point.

By following these steps while doing replays, a "cuts-only" highlights package will be ready to play as soon as the game is over (just hit PLAYLIST, CUE, PLAY and ride speed as desired).

Capturing for Editing and Streaming

The fastest and easiest way to get video from Sport into your editing system is simply to capture the playback of a playlist of selected clips. If you use any slow motion effects in your edited piece, you can improve the look of your product by taking advantage of Sport's capabilities: After you capture the playlist, capture it again while playing the playlist at half (50%) speed. Name the slow motion clip with the same name followed by "slow" or "50". When you want to edit a slow motion segment, rather than slowing the segment down with your editing software, use the already slowed down version from the slow motion clip. It will be located at the normal speed clip's TC times two, so if the full speed segment starts at 00:01:20:00, the same segment on the slow clip will be at 00:02:40:00. If you want to slow it down further, use the editor to slow down the 50% footage (e.g. slow to 50% to get 25% of real time). The idea is to use all the pictures that the camera provides.

Why bother to do it this way? Because most video capture systems only record 30 frames per second, so when you slow to half speed for instance, you get a jerky and amateur looking 15 FPS. BUF Technology Sport replay systems record all sixty pictures per second that the camera provides, so at half speed you get a smooth looking 30 FPS. By capturing Sport's half speed playback, your slow motion edited segments will have that same professional look and feel.

NOTES:

For step 1 above, you must first make sure the "setup playlist" is the same one you will be using for highlights (typically zero). There are ten playlists, any of which can be selected independently for "setup" and/or "playback".
To select a playlist for setup:
Hit SETUP, a keypad number 0-9, then PLAYLIST. Anytime you hold ENTER and hit PLAYLIST, the current cue point (the one on the MENU display) will be added to that playlist. You can also hold 0-9 and hit PLAYLIST to add the current cue point to any of the ten playlists. While in playlist setup mode, follow the icons to change the displayed step, delete a clip, or add a "still" step. A clip can be added at any step by simply entering its number. When done, hit HOME to exit the setup mode.
To select a playlist for playback:
Hit a keypad number 0-9 (don't hold it in), PLAYLIST, then CUE. The selected playlist is cued for playback. Hit PLAYLIST again to exit the playlist mode. The next time PLAYLIST, CUE is hit (without hitting a keypad number first), the last used playlist will be cued for playback.

Step 3 above - Hold ENTER and hit MARK: This works only with newer firmware versions. Previously, you had to hold IN (UP arrow) and hit MARK - the new way was added because it is easier to reach.

Refurbishment

If your Sport replay system is more than a couple of years old, we recommend taking advantage of our "REFURB" program. For a reasonable charge, your Sport is completely disassembled, cleaned, and reassembled. New firmware is installed and all factory tests are performed. Any broken parts are replaced for half their regular price (certain parts are excluded). A REFURB-SP will make your Sport almost like new - hit PRICE LIST for pricing.


Video Q.C. Operators:

If you carry your PC around to different facilities, you'll want to upgrade to the latest version of the (FREE) BUFclips utility.
Why? Because of all the nice new features it offers. Download it, run it, then read the BUFclips.xml file it makes. You can customize lots of stuff to make it save you more time including multiple character delimiters (allow hours, minutes, seconds, frames to be in separate spreadsheet windows, etc.), lots more hotkey phrases (single button access to miscellaneous words you use a lot), and the ability to send a cue command to any timecode in the Windows clipboard (regardless what application it was clipped from).

There's also a bunch of stuff in there you probably won't use. Like BUFclips' VDCP protocol capability that controls many video servers just like a VTR. You can load clips on your PC, setup playlists, and control the picture and extract timecode like a VTR (well, jog/shuttle is dependent upon how well the server can perform). These features are enabled by installing an optional USB Dongle, call us if you're interested. Please let your customers know that server Q.C. can be done with the speed and ease they're used to.

SRW-5800 - you may have noticed that, due to picture breakup, JOG mode is unusable on some SRW-5800s.
Contrary to popular belief, this is not some lack of DT, it's just a little firmware bug in the VTR.
BUF has a workaround: VQC-3000 and VTC-4000/RM-4000 firmware revisions 100121 or later have a menu that, when enabled, sends variable play commands in lieu of jog commands when in JOG mode. JOG still works the same, it just substitutes the command sent to the VTR. The result is that the SRW-5800 works exactly as well as the SRW-5500 when jogging. The menu to enable is (SETUP, SETUP) OPER PREFS, JOG USE VP CMD.


Video Q.C. Keystroke Utility Works with Window's Vista & 7

The free PC timecode keystroke entry utility for BUF Technology QC controllers now works with Microsoft's Vista and "7" operating systems. The popular "BUFkeys" utility program is replaced by the new "BUFclips" software offering the same keystroke issuing capability in addition to new features.

The new BUFclips may look somewhat complicated, but it is really very simple to use. The new clip features are activated only if you purchase and connect the USB "Dongle" security key to your PC. These features allow the VQC-3000 or VTC-4000/RM-4000 to control VDCP protocol servers in addition to Sony protocol VTRs. It adds support for almost all servers including Grass Valley/Thomson/Tektronix, Harris/Leitch/ASC, Omneon, Seachange, FFV, Doremi, and many more. It allows you to manage and load clips and perform other clip related tasks.

But if you only need the keystroke utility that you had with BUFkeys, use BUFclips without the Dongle, and the program runs in "free mode", providing the same keystroke features as BUFkeys, except it uses a different and more universal technique to issue keystrokes. It works with all known versions of Windows, including Vista and "7". As with BUFkeys, you typically need to run BUFclips "as Administrator" for it to work. To use VDCP and the other new optional features, you need to update the EPROM in the panel (as well as purchasing and installing the Dongle). However, older versions of VQC-3000 and VTC-4000/RM-4000 firmware do work with BUFclips.

To use BUFclips with older (before 091116) VQC-3000 or VTC-4000/RM-4000 firmware versions:

1. Download and install the program (skip the Dongle drivers install step as instructed).

2. Run the program and hit the QUIT button - this creates the BUFclips.txt file.

3. Edit the BUFclips.txt file with a text editor, search for BAUDRATE= and change the value from 38.4K to 9600.

BUFclips will work just like BUFkeys and reacts more quickly in addition to other enhancements. Importantly, BUFclips will issue keystrokes to all known versions of Windows, including Vista, adding support for most laptops.
BUFclips Video Server Clip Management Software
BUFclips supercedes BUFkeys video Q.C. keyboard utility
Still FREE keystroke features - now works on Vista and 7!

Optional features add:
VDCP Protocol support to existing BUF controllers

~ Displays all clips available on server
~ Loads clips for playback
~ Drag and drop clips into play lists
~ Jog and shuttle control with companion VQC-3000 panel

Don't Replace - Refurbish!
You have made the right choice purchasing BUF Technology controllers/replay systems. Because they last forever! If you are in the club of experienced BUF users, you know how long they hold up and how much punishment they can take. But everything ages eventually and we would love for you to purchase our newest model. However, sometimes if it works for you, why spend money needlessly? Instead take advantage of our "Refurb" program: For a nominal charge, you can make your BUF controller almost like new again. We disassemble it, clean it, update it, reassemble it, and run it through our factory tests.

Don't leave money sitting on the table, refurbish!
A BUF Sport Story:

(The Demo)

Love it. Like the ability to record a 3 hour meeting. It's really an impressive unit. Used it for football yesterday and had a play where there was a turnover, but they couldn't tell how it happened, how their guy got the ball. They looked at the recording on Sport this morning and were able to see exactly how it happened with ease. Phased it into the switcher in a couple of minutes and love the interface. One of our guys who deals with purchases saw it and he says he'll recommend it to the board.

(Later after the purchase)

The Sport Replay is a favorite of our announcers because of the quick turnaround of the video. They frequently ask to see replays or even still shots of plays. We used a still shot the other night when the team got called for lining up offsides. The still picture clearly showed the player way ahead of the line of scrimmage.

When we are not using the Sport Replay in the van for sporting events, it is connected to our control room for B-roll video. Because our crews are 100% volunteer, we do not always have a full crew. The Sport Replay is so easy to use, the director usually cues and plays the B-roll video him/herself.

It was great meeting everyone from Buftek at the show in Marlboro, MA. Keep up the great work!

Regards,
Dennis

Dennis Bergeron
Program Manager
Holliston Cable Access, Inc., Holliston, MA
"Spot" Video Server Controller
Powerful yet simple control of video servers

One touch playlists and loops

Store, recall, and configure panel setups on PC

Controls 8 server channels and 2 VTRs

Frame accurate ingest from tape

Multi channel recording and playback
BUFMC Routing Switcher Control System
Affordable control of routing switchers using PC computers

Fast and easy - touch screen or mouse

Easy to set up using engineering GUI

New built-in spreadsheet-type data display with copy/paste

Controls many routers from many PCs

Control via existing network

IR device control option

Routing and IR command scheduling
VQC-3000 "BUFclips" Software Upgrade for Video Server Control
The capabilities of the VQC-3000 video Q.C. controller have been expanded to enhance video server support. Full technical and visual Q.C. (quality control) is performed routinely on high end programming, particularly long form programs such as major motion pictures prior to delivery to broadcasters or before encoding for DVD. Defects such as film scratches, specks, hairs, digital hits, noise, and compression artifacts often can be detected only by human visual observation. A high performance controller is usually employed to speed the process, saving time and money. The Q.C. operator watches the programming in real time and has complete and instant control over picture motion allowing questionable segments or frames to be identified frame accurately and documented in a Q.C. report for later repair. Programming generally is transmitted by videotape, sometimes using superior formats like Sony's HDCAM-SR. However, more and more programming is being recorded, post produced, and delivered entirely as file based objects, never leaving the domain of video servers.

To support video Q.C. operations using file based systems with minimal adjustment to current procedures, we have introduced "BUFclips", a software program that runs on a PC connected to any new or existing VQC-3000 video Q.C. controller. The system controls video servers using VDCP (video disk communications protocol - formerly "Louth Protocol"), a "9-pin" RS-422 protocol common to almost all video servers. VDCP is to video servers as the "Sony 9-pin" VTR control protocol is to videotape recorders. BUFclips displays clip names reported by the server and features one click clip loading and jog/shuttle control essentially identical to that of VTRs (depending on the video server's capabilities and file format limitations, e. g. "long-GOP" compression formats like some forms of MPEG tend to play with rough motion in reverse). Long clip names are supported. Other features such as drag and drop playlists are also included.

In addition to its video server related features, BUFclips also facilitates automatic timecode entry. When problem frames are identified by the operator, the timecode number must be entered into the Q.C. report. Manual entry of timecode numbers takes time and is prone to errors, so we developed a system for entering the numbers automatically via a serial connection between the controller and PC. Because this feature could only be used with custom Q.C. report software, we developed BUFkeys, a software utility that allows the numbers to be entered into any program as though typed on the keyboard. A simple F-key keystroke either on the PC or the controller "types" formatted timecode wherever the "caret" (keyboard cursor) is located. Any program that would normally receive keystrokes typed on the keyboard, receives the timecode, and formatting is easily customized including pre and/or post characters, drop frame indication, etc. This allows exact timecode numbers to be entered quickly and accurately into any program running on the PC including popular spreadsheet, database, and word processing programs. BUFclips includes all the features of BUFkeys and runs on all versions of Windows (98SE or later). Also new for BUFclips is that it works on the Vista operating system (Windows and Vista are trademarks of MicroSoft corporation). Since Q.C. rooms commonly already have a PC running BUFkeys, it is simply a matter of replacing BUFkeys with BUFclips and updating the firmware in the VQC-3000 to upgrade an existing Q.C. room to file based Q.C.

Any new or existing VQC-3000 will work with BUFclips - existing VQC-3000s require a firmware update. BUFclips is available for half price when purchased with a new VQC-3000.
A Note About BUFTEK Software:

All BUFTEK software products run lean-and-mean and do not slow down or otherwise negatively affect your computer. To completely uninstall a BUFTEK software product, simply delete the folder it's in. No residual files or data (such as Registry keys) are left on the computer that could cause adverse cumulative effects.

That's why BUFTEK software products install, by default, in the C: drive root directory instead of the Program Files folder, because most programs that reside there require an uninstall program to delete them. And sometimes uninstall programs fail to remove all references from the system Registry or elsewhere, slowing down your computer forever. When not running, BUFTEK software does not affect a computer in any way (other than the disk space it occupies). And if deleted, there are absolutely no residual effects. Of course, BUFTEK software can be installed wherever you like, including in the Program Files folder.

To install a BUFTEK software product, download and unzip (extract) the files into a folder or onto the desktop, then launch the Setup.bat file (double-click Setup). You cannot run Setup from within the zip file, you must first extract it. Setup creates a folder by the name of the product in the root directory (C:\) and extracts all the necessary files and folders into that folder. It does not place data or create files anywhere else, so deleting this folder will completely remove the product and all related data from the computer. Once installed, the folder can be moved to another location and/or renamed. Some products, such as BUFMC, allow data to be stored in another location such as a central server.

For some products, the last installation step installs drivers for a USB "Dongle" security key. If features that require the Dongle are not required, or the Dongle drivers are already installed, this step can be skipped (instructions for doing so are displayed). The Dongle drivers can be uninstalled using the Windows* Control Panel: System, Hardware, Device Manager. In "USB", Delete "USB Dongle - Software Protection Device". The Dongle must be installed to see this. The driver is typically installed in C:\WINDOWS\System32\DRIVERS\USBKey.sys, and can be deleted manually. Dongle related Registry keys can be found by searching for occurrences of "Dongle".

*Copyright Microsoft Corp.