Finally affordable HD Instant Replay - Operates very much like SD Sport - Sport lovers will be happy!
Sport HD or the new Sport-AR for Always Recording multi camera replay!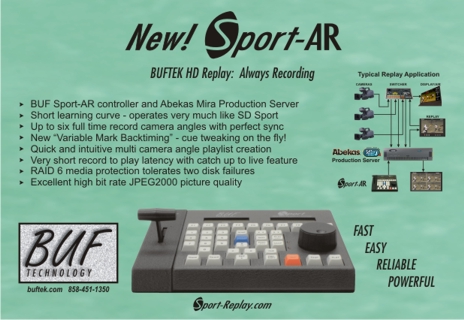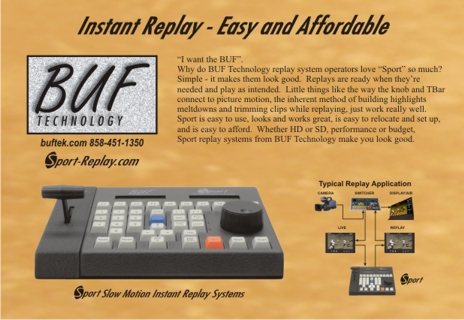 Truly Instant - Push a button, turn the knob, move the TBar - the picture moves instantly
Excellent quality JPEG2000 recorded on large removable hard disks
Serious slow motion based on 60/59.94/50 frames per second
(beware of amateurish systems using 30 fps giving you jerky slow-mo)
Dedicated hardware built from the ground up to record HD video
(not a repackaged PC that can't hold up and requires long reboots)
Download the Sport-HD Flyer: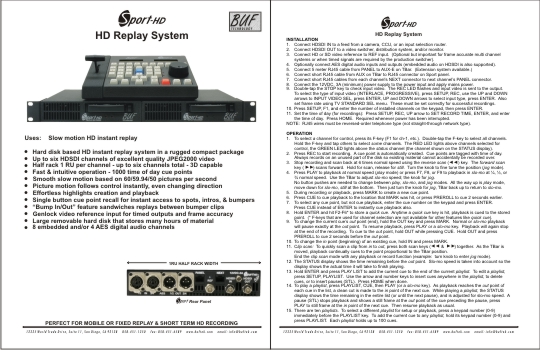 Very simple to install and use - plug it in for awesome quality JPEG2000 HD
Put up to six channels in 3RU of rack space plus the control panel

Or if you've got no room, just stack the panel on top of a channel and go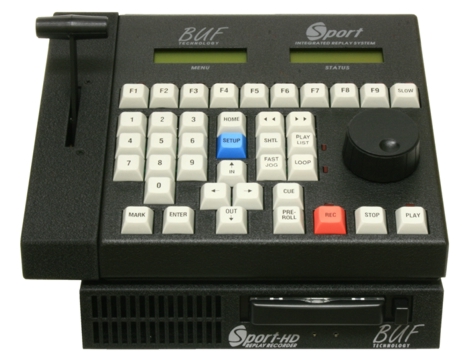 Existing Sport owners can save the cost of the panel and convert a regular Sport unit to HD!
Control panels take a beating and professionals will tell you that BUF is the toughest.
BUF controllers get worn smooth over the years but keep on performing.
It's not accidental - they're designed that way.
When you purchase from us, you know it's the right choice.
We appreciate your loyalty and we want you to know that you have ours.
So if you already have a BUF Sport panel and need to upgrade to HD:
Don't shelve it - use it!

Sport Standard Definition
Many applications just don't need HD and the SD Sport is a favorite of the industry because it's:
Affordable - Rugged - Portable
it's very fast to use, has powerful features, and it's a really quick learn
Sport - Slow Motion Instant Replay from your friends at: